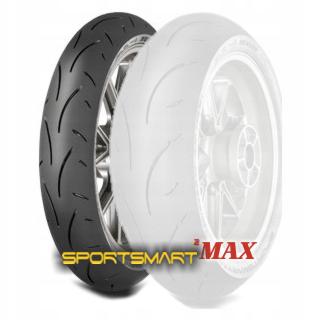 Prekinuto 602.35 kn
602.35

kn
(uklj. bez PDV. dostava)
Technical Specifications
Odaberite Proizvođač
DUNLOP
Tyre Profile
SPORTSMART II MAX
Veličina guma
120/70 R17
Kategorija
Moto Gume M/C
Odaberite vrstu
Racing,Sport
front/rear
Prednja guma
Speed Index
H
Loadindex
58
carcass
TL / Tubeless / Radial
EAN
5452000707260
ArtNr
635456
DOT
Novi
Weight
5.0 kg
Production Country
FR

11/2017 - Fazit: " Der Vorgänger Sportsmart zwo wedelte 2016 mit der roten Laterne, der Max springt bei seinem Testdebüt gleich aufs Podium. Besondere Glanzpunkte kann Dunlops neuer Sportler im Alltag und mit seiner Ausdauer setzen." Auch im Regen hat sich der Max deutlich verbessert, doch der Abstand nach vorne bleibt.
Test for the Dunlop SportSmart2 Max
Available Q1 2017
Presentation News Tests Promotion for the Dunlop SportSmart II Max

24.06.2018
Ovaj pregled nije dostupan na vašem jeziku.
Budite prvi koji će dodati recenziju za ovu gumu na vašem jeziku!

Show Original / Pošaljite recenziju